Getting Help
(2Q19)
This article will tell you where to go for additional help working with eXist-db.
Community Support
Besides eXist-db's extensive documentation, eXist-db has a large and active community of users and developers. The community uses mailing lists, chat, a wiki, and social media to get and give help, follow the latest developments and share tips and discoveries.
The book, "eXist: a NoSQL Document Database and Application Platform" was published in 2014 and is available from O'Reilly.com.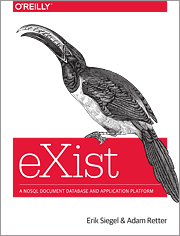 The exist-open mailing list is the primary forum for asking questions and getting help. Finding the answer to a question can sometimes be as simple as searching the mailing list's archives. Whether you have a question that you can't find the answer to, or you just want to join the discussion, subscribe to the mailing list. It's free and you can unsubscribe anytime.
You can also search the exist-db tag on Stackoverflow for questions and answers.
Besides exist-open, there is a mailing list dedicated solely to the XQuery language: the xquery-talk mailing list. It's a great place to ask questions about XQuery, from basic to advanced.
See our list of resources for learning XQuery.
Follow @existdb on Twitter for news and announcements about eXist-db. Use the #existdb hash tag (note: no dash in #existdb).
Meet eXist-db professionals on LinkedIn. Subscribe to the eXist Developer Blog, powered by the eXist-based AtomicWiki project.
Professional Support
eXist-db began as and continues to thrive as an open source community, built on the contributions of volunteers. Recognizing the need for professional solutions for eXist-db, members of our development team and community have come together commercially under the umbrella of eXist Solutions. They are available for  Consultancy, Training or Bespoke Development. We also offer support subscriptions with service level agreements tailored to customer's requirements. Please contact us at info@existsolutions.com.