Dashboard
(2Q19)
The eXist-db Dashboard is the central application launchpad and administration facility for eXist-db. Much like a tablet or smartphone home screen, the Dashboard displays a list of applications, or "apps".
Introduction
The Dashboard supports both "apps" and "plug-ins". Apps are self-contained applications providing their own web GUI, while "plug-ins" run inside the Dashboard as simple, single-screen dialogs. Examples for apps are the eXist-db documentation, eXide, or the demo app. Examples for plug-ins are the package manager or the collection browser. Plug-ins are most suitable for administrative functions.
In addition to applications and plug-ins, the package repository does also provide library and resource packages. They usually do not provide a web GUI and are therefore not visible on the Dashboard home screen. However, they will appear in the list of installed packages within the package manager. You can read more about the different types of packages in the package repository documentation.
Login

To fully use the administration plug-ins, you need to be logged in as a dba user. You may access plug-ins as a non-dba user, but as soon as you want to apply changes, you will get a permission error.
You can log in by clicking on the link in the upper left-hand corner of the Dashboard frame. If you are logged in as another user, click on the user name to log out.
Using the Package Manager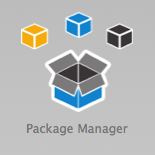 The Package Manager lists all installed and available packages. If updates to installed packages are available, this is marked in red.
To filter the package list, select the corresponding radio buttons to see either installed or available packages. Detailed information about each package can be viewed by selecting the show details checkbox in the upper-right corner.